The Divi Cyber Monday Sale has arrived! We're offering discounts up to 60% off! Plus, with every Divi, Divi Cloud, Divi Teams, and Divi Marketplace Bundle purchased, we're giving away a FREE prize! But that's not all, we've also got over 50 free website templates and dozens of additional deals that are EXCLUSIVE to existing Lifetime Members and anyone who participates in this year's sale.
There's so much to this sale it's hard to keep track of. That's why in this post we're taking the time to dig a little deeper into just one aspect of the sale. Our Divi Ecommerce Booster Bundle. When you purchase this Cyber Monday Bundle you'll get an amazing discount of 60% OFF! That's a total value of $488.99 all the way down to $195.60! You may never get another chance to get this unique collection of products at such a steep discount ever again. Let's take a closer look at what's included.
The Massive Cyber Monday Ecommerce Booster Bundle!
Turn your Divi website into a money making machine with this collection of ecommerce-boosting plugins, layouts and child themes. You'll get everything you need from shop extensions to beautifully effective layouts and child themes to give your website's sales a huge boost.
Act fast, because it will be gone in no time flat. Save an amazing 60% off the most popular product-enhancing plugins, child themes and layouts bundle in the Divi Marketplace. Sales like this only happen during Black Friday and Cyber Monday. Don't miss out on an amazing opportunity to get your hands on thousands of revenue-boosting ecommerce layouts, all while paying a fraction of the regular price!
Molti Ecommerce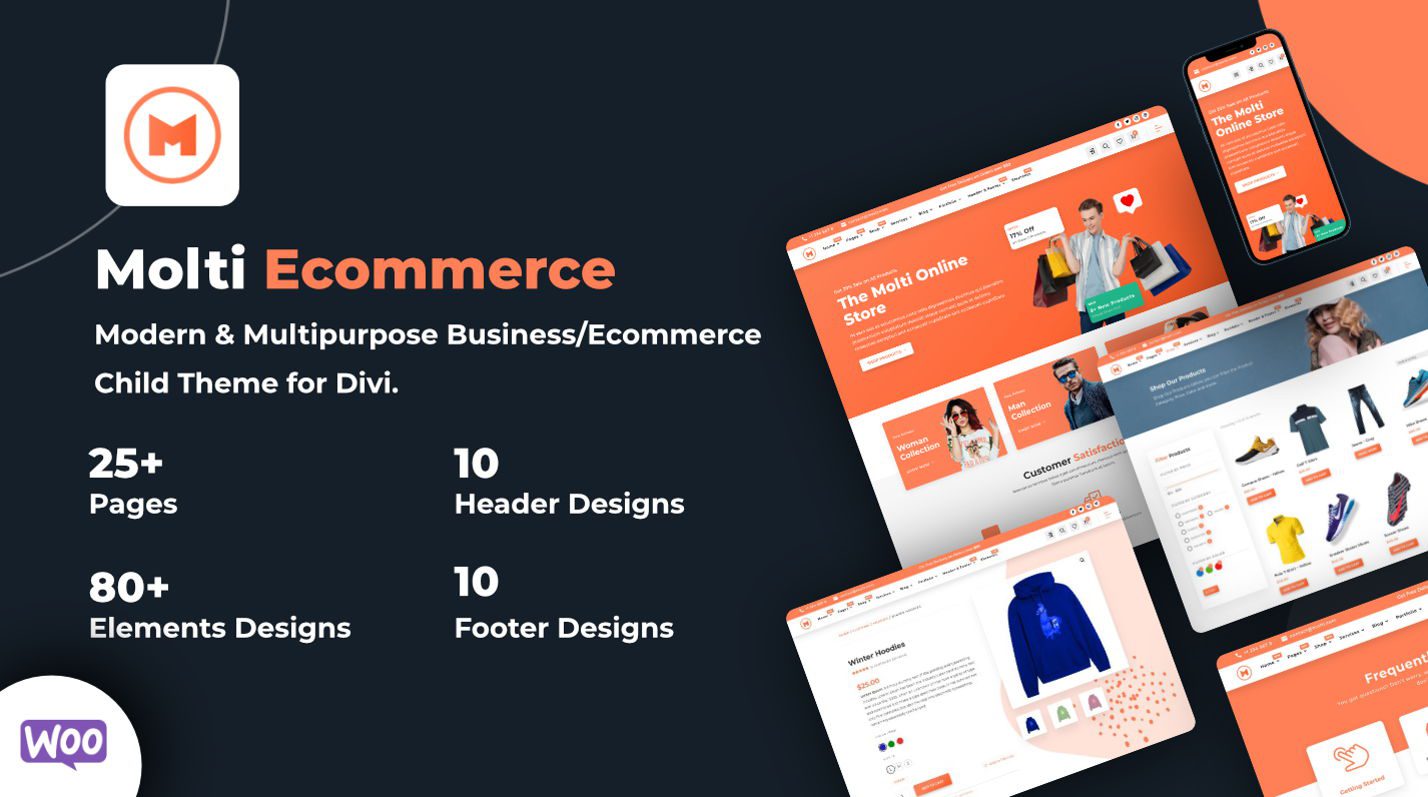 Get the number one best selling child theme in the Divi Marketplace. With over 25 carefully crafted ecommerce designs, 10 headers, 10 footers, and 80+ gorgeous modules, you'll get everything you need to take your Divi ecommerce website to new heights. Now WooCommerce ready, this feature-packed child theme will give your shoppers an amazing account experience, easy-to-navigate mega menu, and a simple, yet gorgeous purchasing experience with the new ajax pop-up shopping cart.
Divi Menu Cart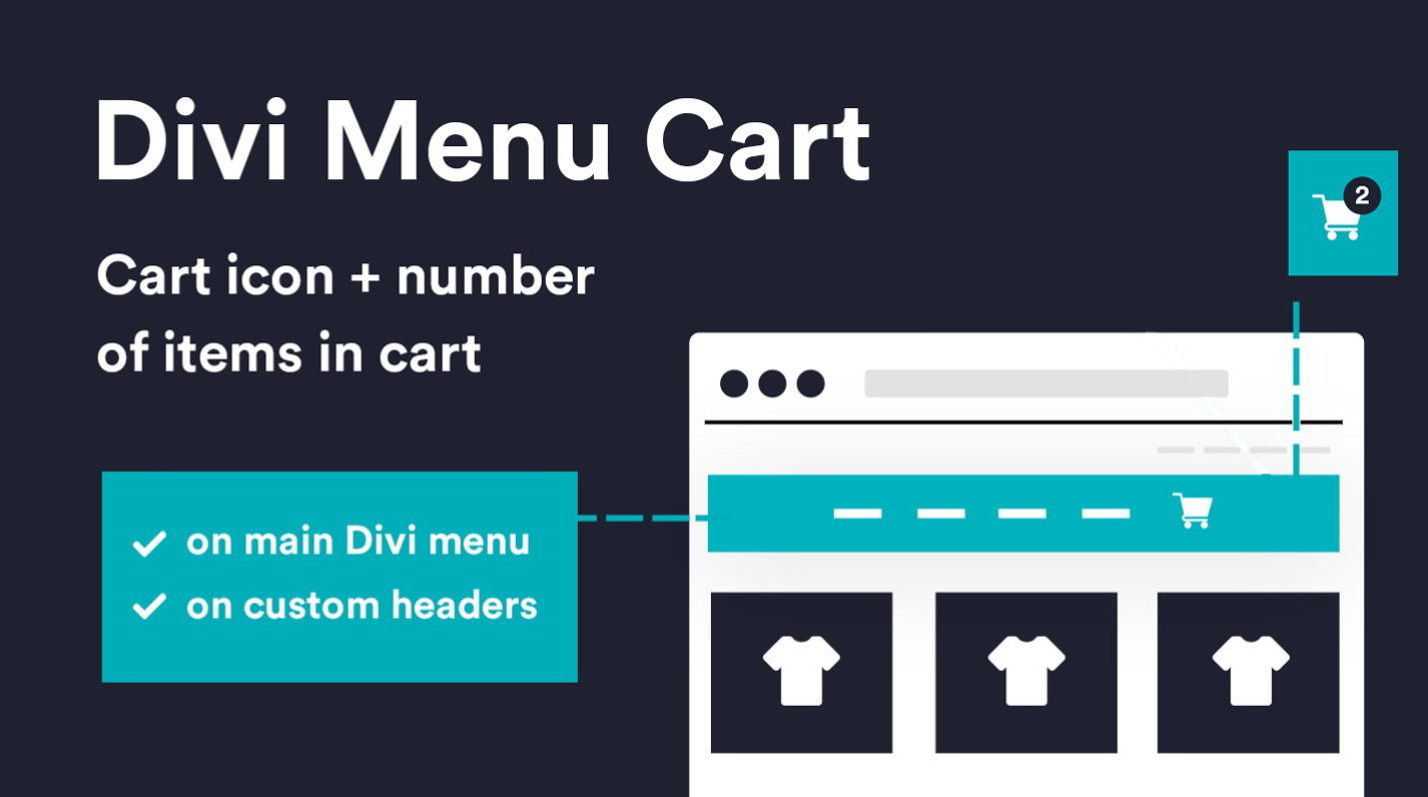 If you're looking for a better way to display your Divi website's cart, look no further than Divi Menu Cart. Gain the ability to put your cart icon in the main menu, reveal the number of cart items, add a custom cart icon, or hide your cart icon with this feature-rich plugin. Modifying your cart has never been easier thanks to the addition of cart mods in the Divi Theme Options. You'll get complete control over how and where your cart displays, as well as full customization options.
DiviCommerce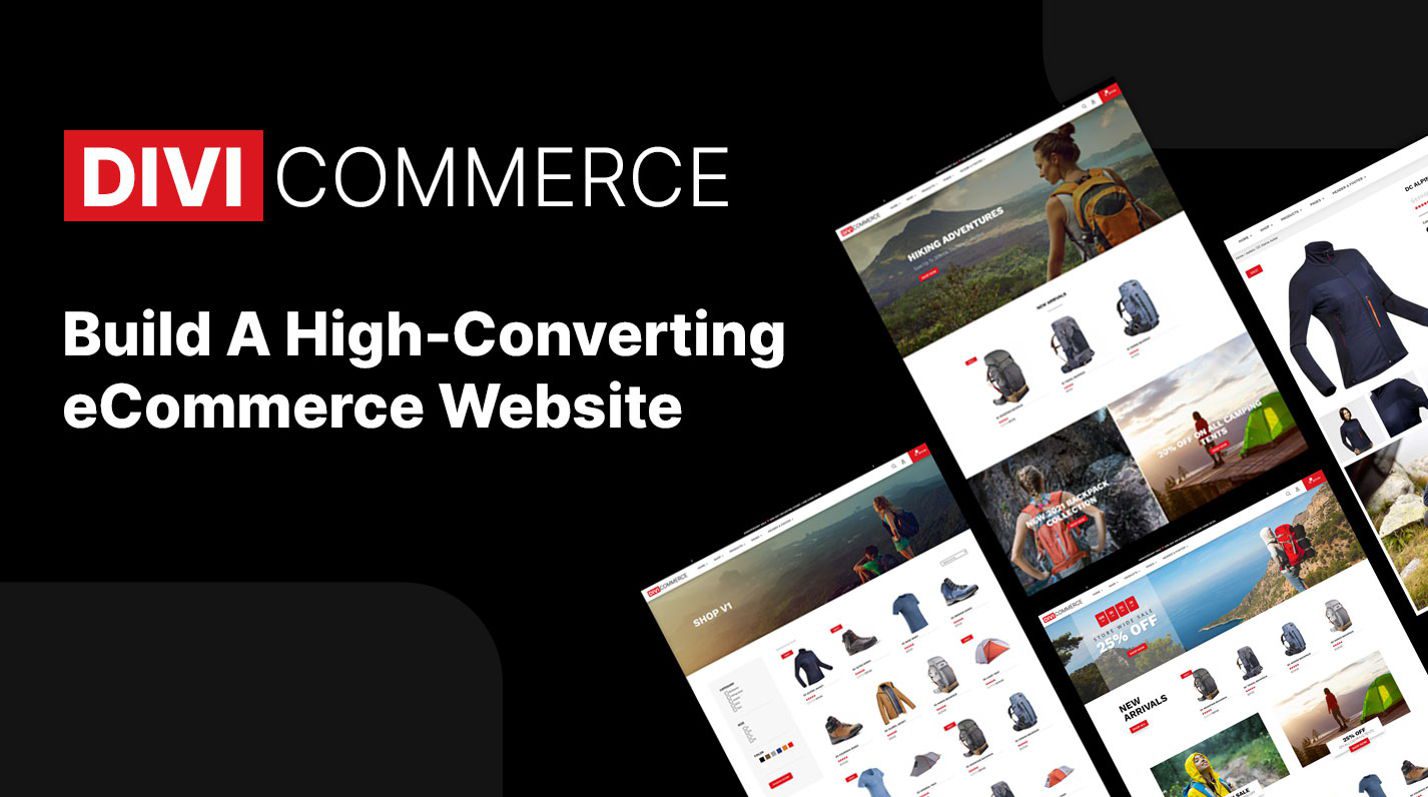 Made for modern businesses, Divi Commerce is a fully customizable child theme that'll have your website up and running in record time. Divi Commerce comes packed with 23 pages including 6 home, 3 shop, 2 product, and 2 checkout pages–along with several header and footer designs. Plus, you'll get a super slick cart slide-in module, advanced search capabilities, product filtering, and the ability to capture emails with a gorgeous popup maker.
Hide & Show Pro
Gain full control over who sees your website content and when with Hide & Show Pro. You can easily create repeating and non-repeating promotions; event, sale, and other notifications based on geolocation parameters, from country all the way down to a specific city. Plus, you can hide or show any content you wish by protecting it down to the row level. Additional features include condition-based hide/show content based on taxonomy, custom fields, language, purchases, memberships, subscriptions, and more.
WooCommerce Theme – Divi Cart Pro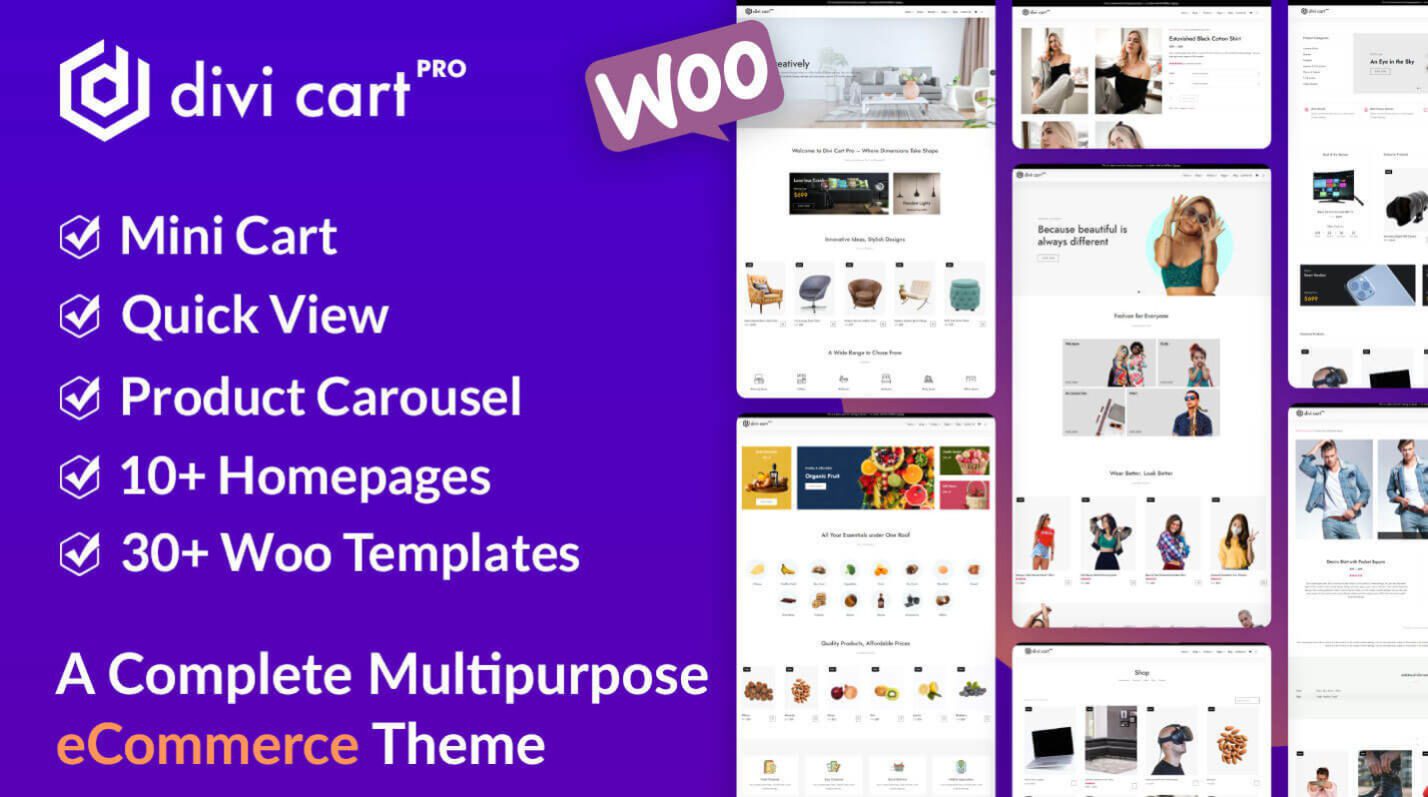 Get a powerful ecommerce Divi child theme with four native Woo modules including an advanced shop grid, product carousel, and categories grid. The biggest bonus of all is a full-featured mini-cart with customization options including custom cart icons, product thumbnails, product pricing, cart subtotal and more. Plus, your site's users will benefit from gaining a sneak peek at interesting products through a pop-up modal window, as well as ajax pagination to keep them engaged.
Divi WooCommerce Extended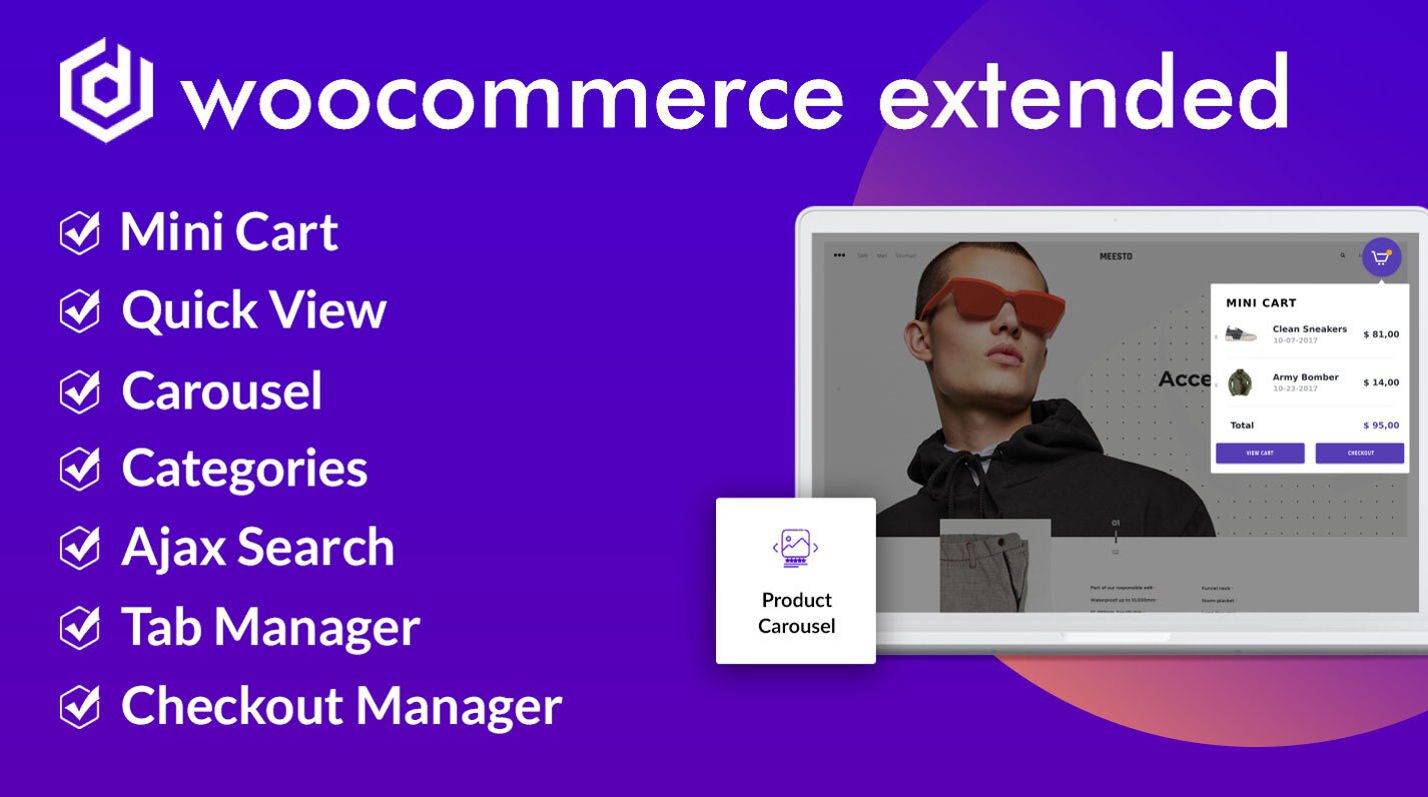 With Divi WooCommerce Extended you'll have access to innovative Divi modules including a mini cart, product grid, product categories carousel, and more with ultimate customization options to match your branding. Also included are great features such as ajax search, tab manager, checkout manager, and quick product view.
Fashion, Divi Ecommerce Theme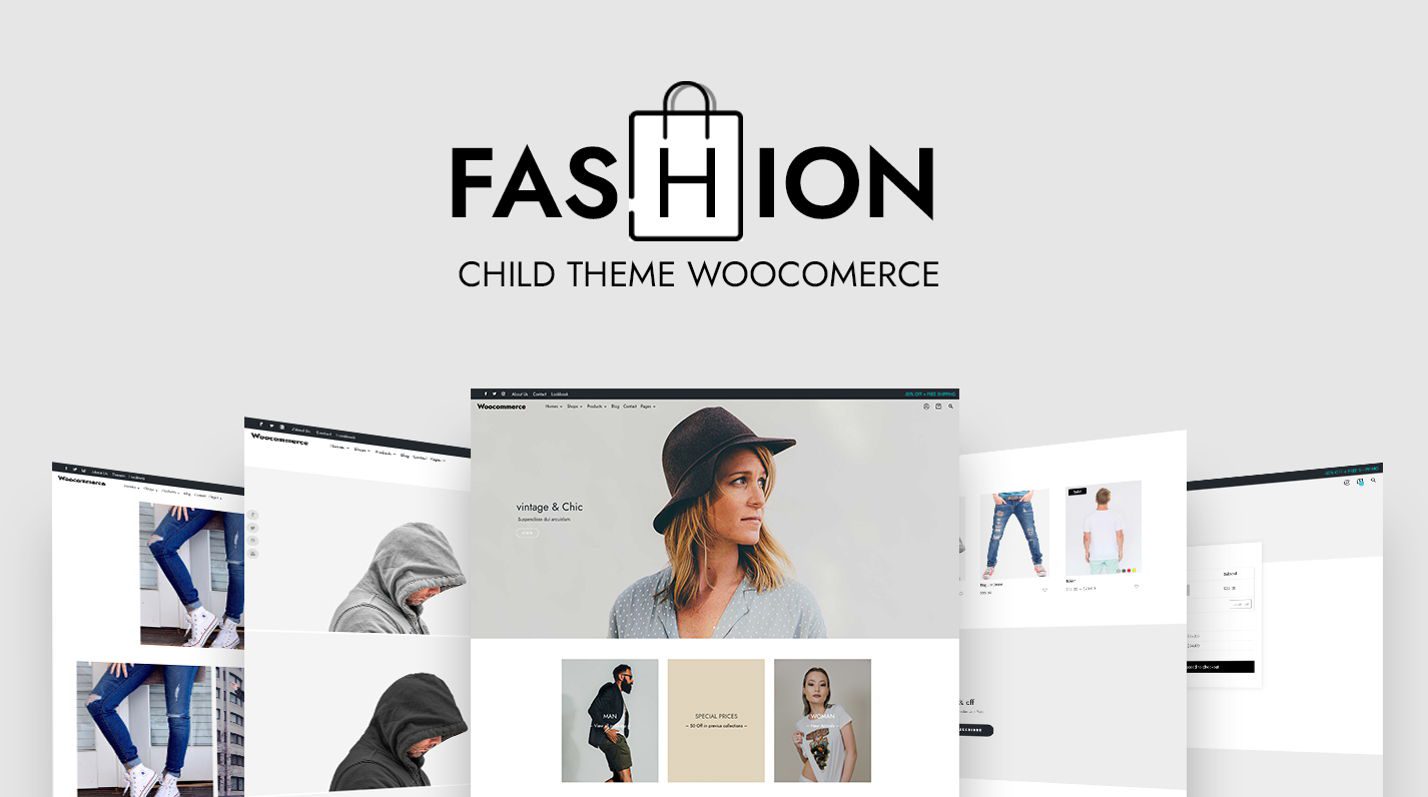 Take your fashion website to the next level with this gorgeous Divi ecommerce theme. You'll get a sleek, modern child theme that's 100% compatible with WooCommerce. Along with a mobile-first design, this fashion theme comes stacked with 6 home pages, 3 shop layouts, 4 product pages, and incredible integrations with instagram, mailchimp, and more.
ElegantShop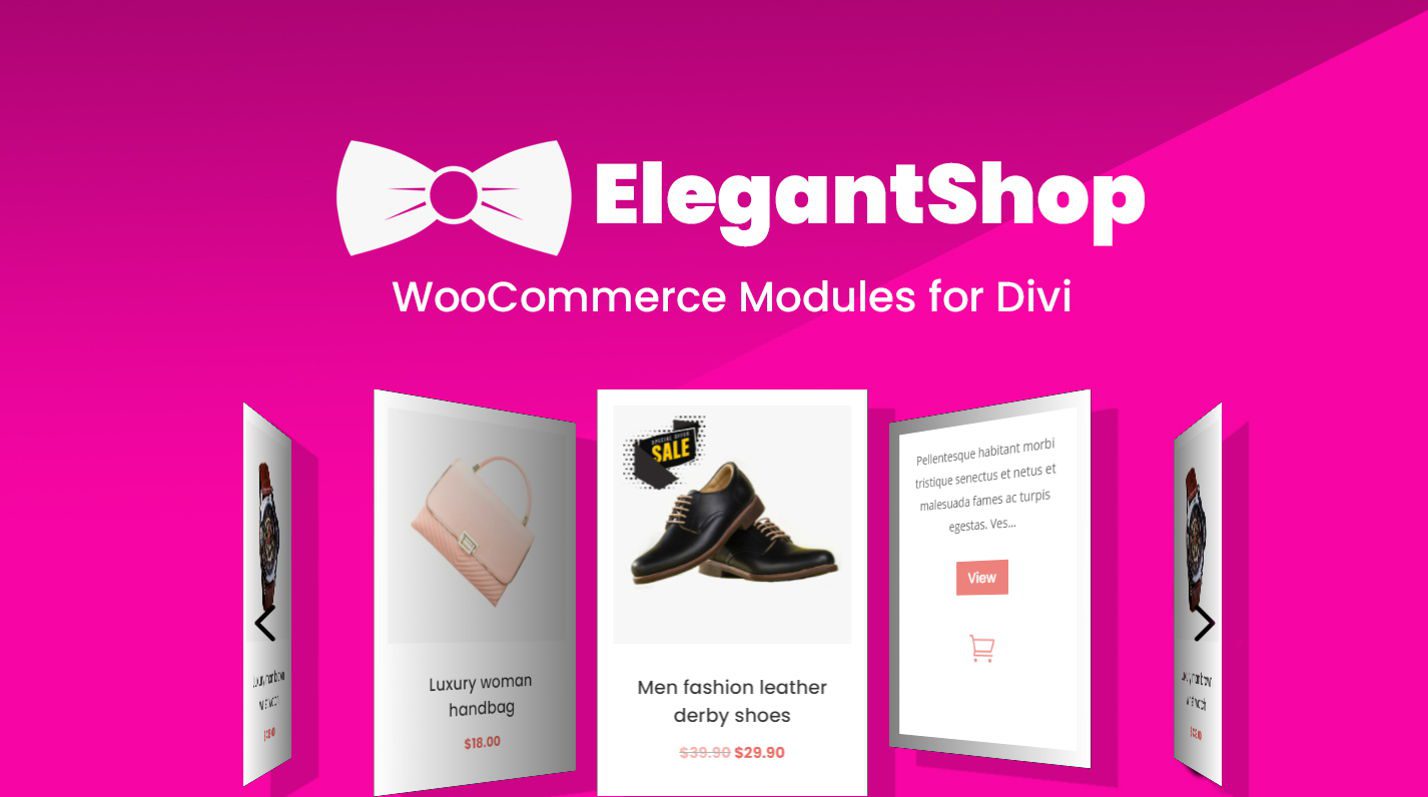 Elegant Shop is a feature-packed Divi shop plugin that will turn your ecommerce website into a big time money-maker. You'll get Divi WooCommerce carousel, which gives you a beautiful way to feature your products in style. There are 3 different product styles to choose from, along with two slide transition options. Plus, you'll get Divi WooCommerce Products module, which adds a cart button to your products, as well as some awesome animation effects. Lastly, there is WooCommerce Cart module, which enhances your customers user experience with the ability to add or remove products via ajax, see updated cart product counts on the fly, and more.
Woo Essential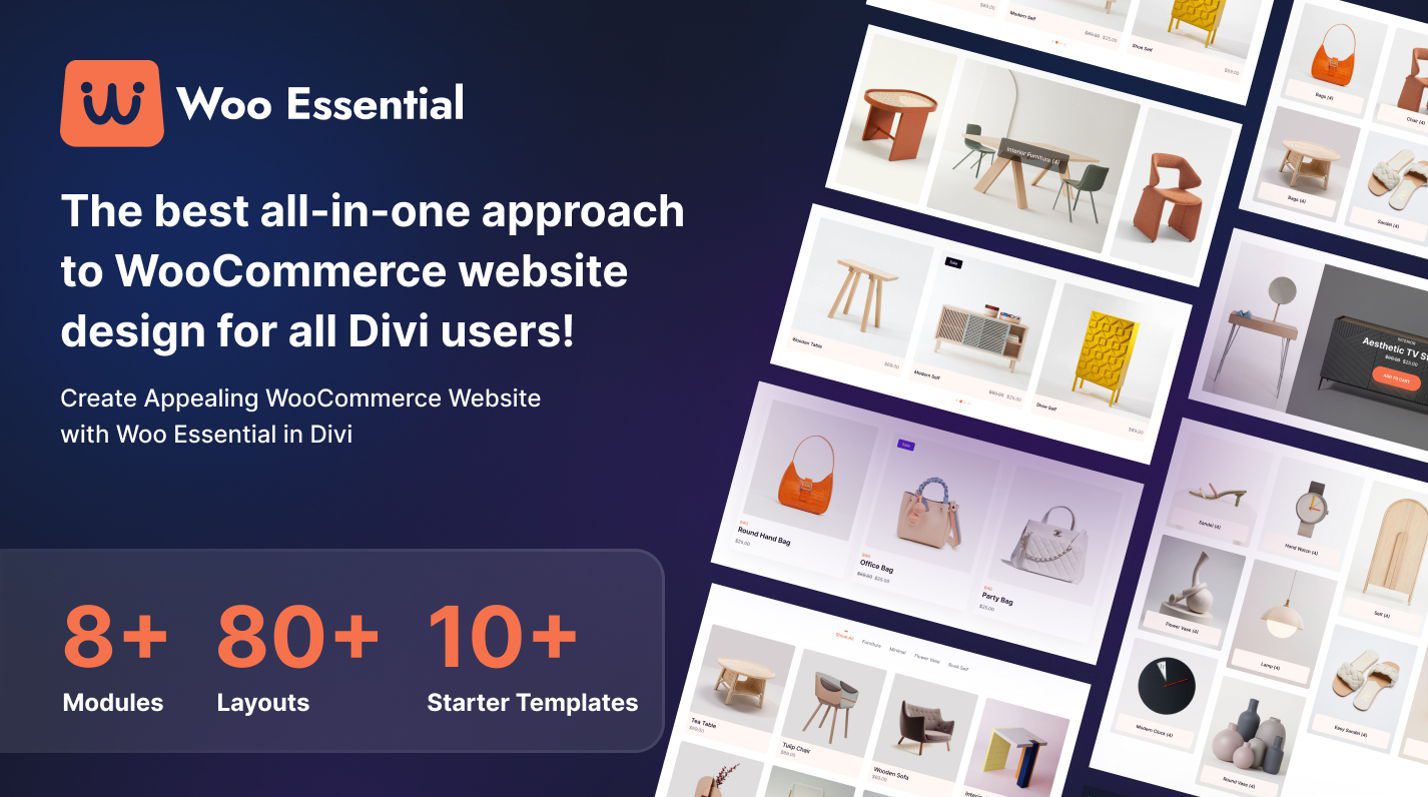 Woo Essential is a feature-rich add-on for WooCommerce that boasts 8+ modules, 80+ layouts, and 10+ starter templates to boost your creativity. Achieve next-level sales with a built in wishlist, mini-cart, product quick view pop-up, and product comparisons. Plus, you'll be able to feature your site's products in an attractive way with Woo Essential product carousel, Woo Product Accordion, Woo Essential Product Grid, Woo Product Filter Masonry, Woo Essential Category Carousel, and more.
DiviSwift Ajax WooCommerce Mini Cart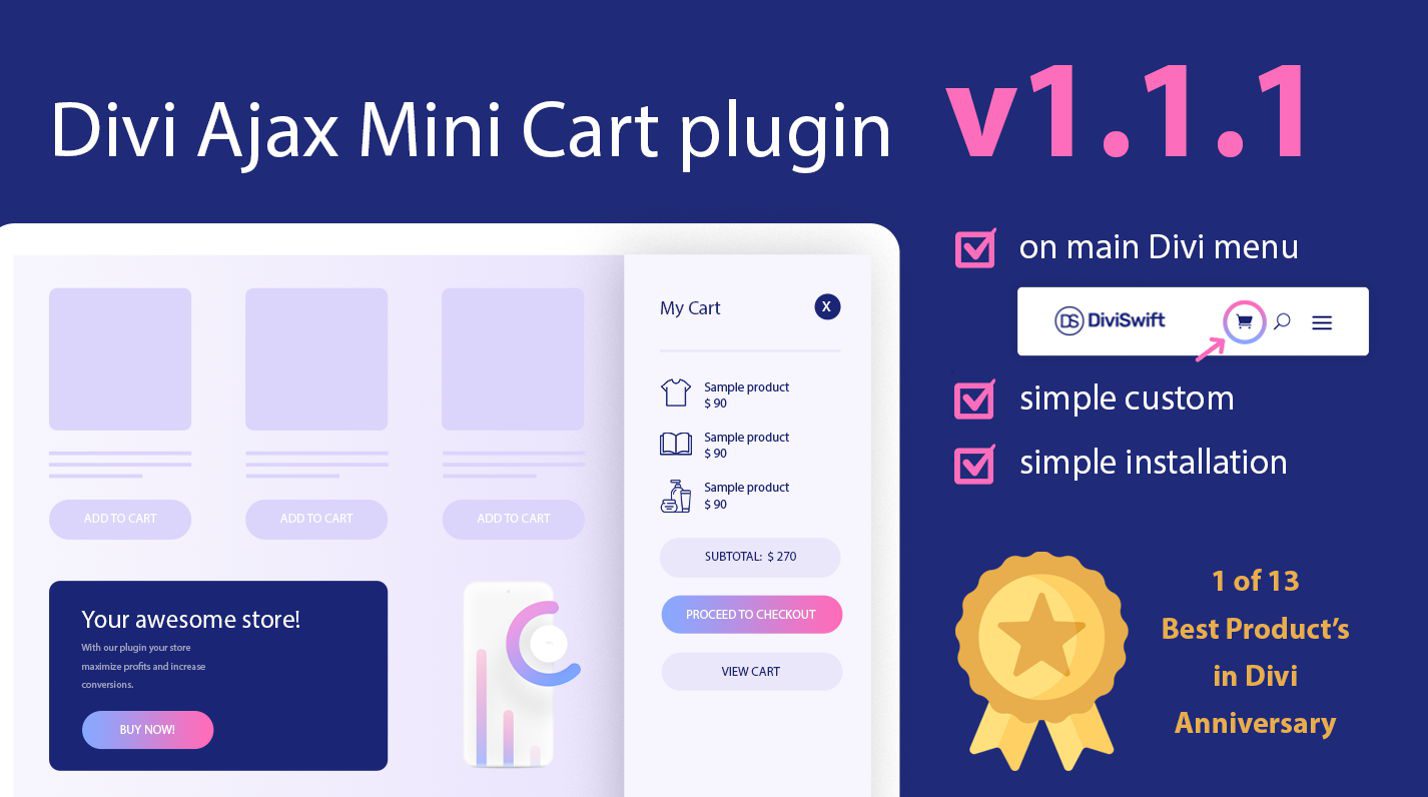 Boost your profits by giving your customers a quick way to checkout on your site with the DiviSwift Ajax WooCommerce Mini cart module. Completely customizable, you can make your mini cart stand out with advanced scroll effects, customization options, and seamless integration with Divi's Theme Builder or standard menu. Plus, the module can be set to show as soon as your customer adds a product to their cart.
DiviCommerce – Divi Ecommerce Layout Kit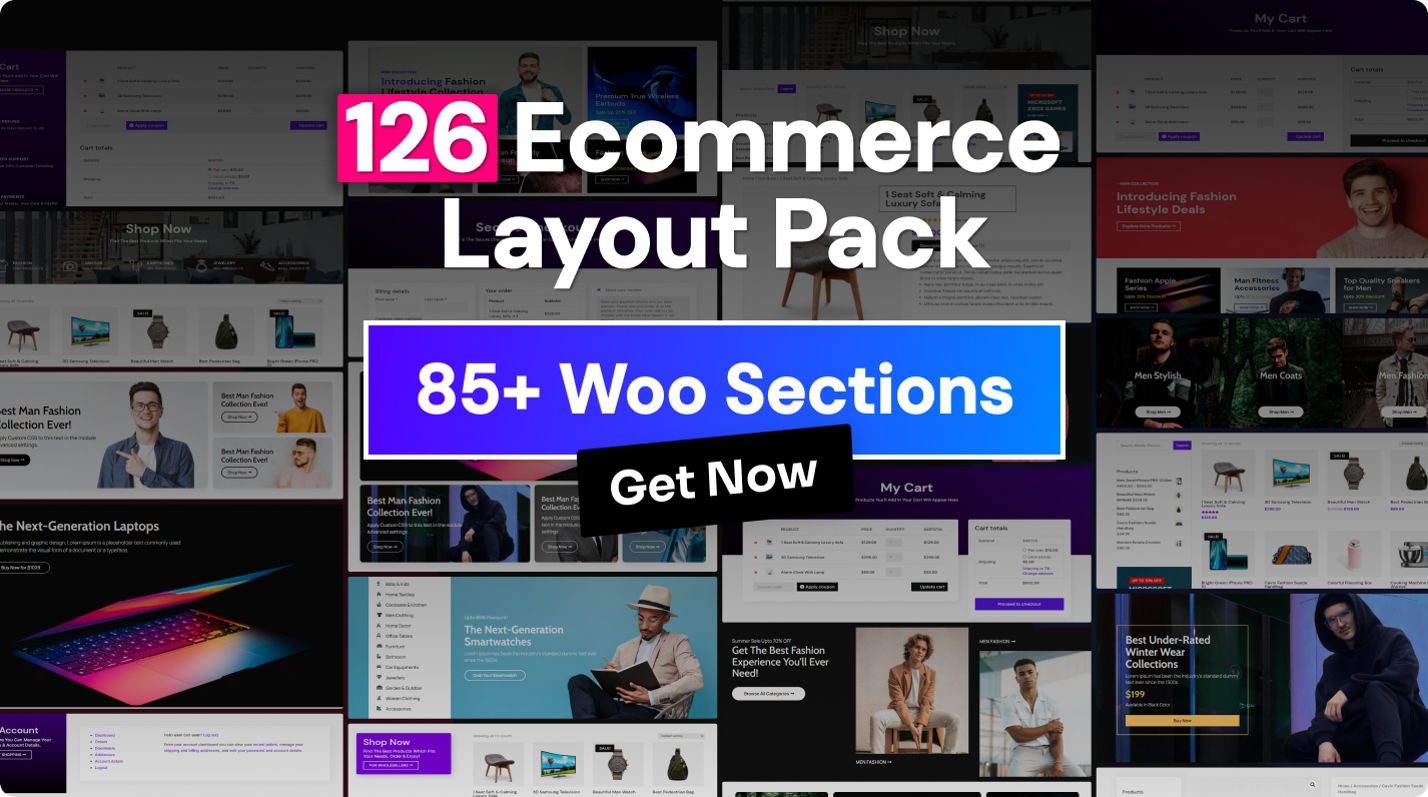 With 120+ modern layouts, you have everything you need to give your Divi eCommerce website a brand new look. These layouts are all 100% responsive, and come jam-packed with 80+ sections and 38 WooCommerce pages to kick your website's sales into high gear.
Woo Layouts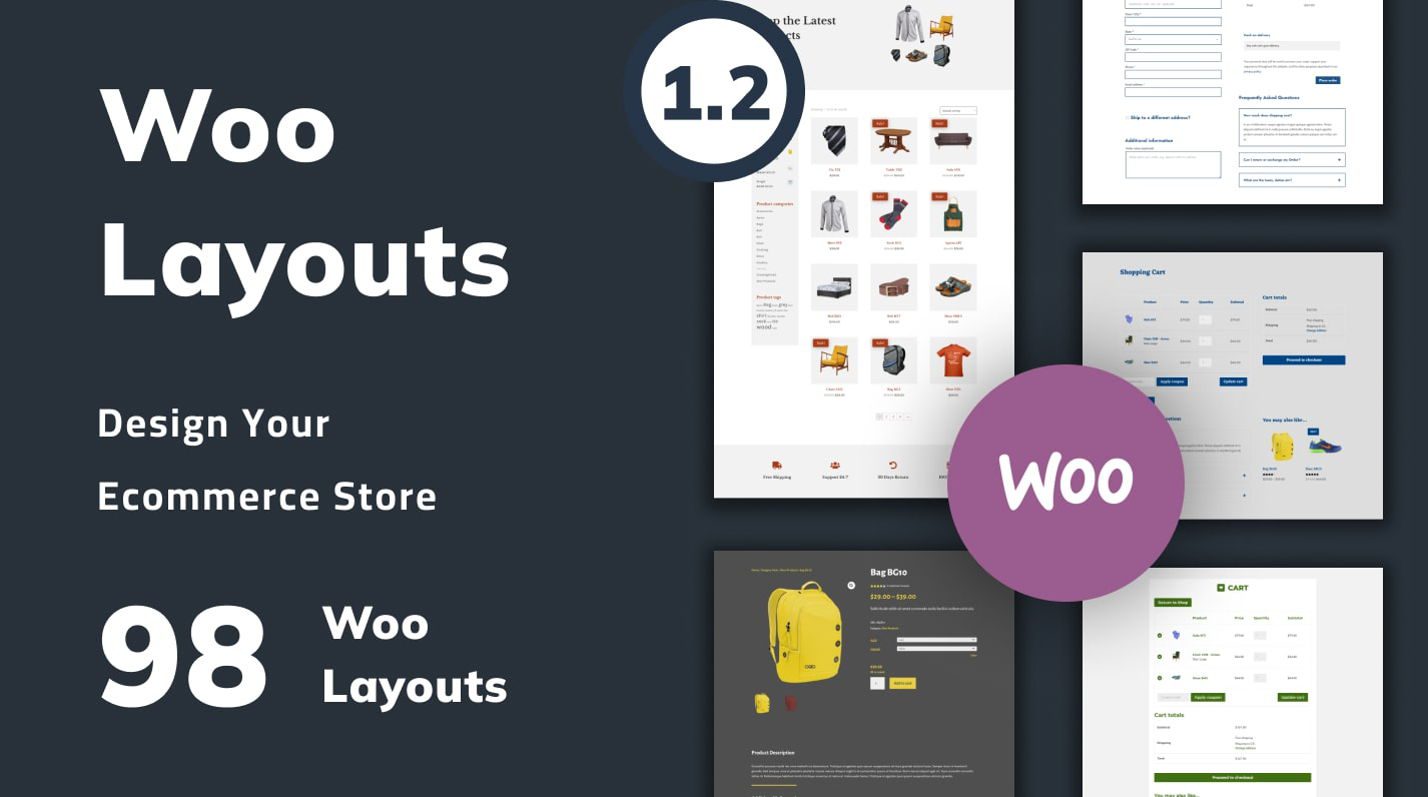 Woo Layouts provides you with 49 unique and creative layouts to help you customize your eCommerce store in style. There are 13 product layouts, 10 shop layouts, 13 cart layouts, and 13 checkout layouts included to give your Divi WooCommerce site a stunning boost. Each layout is fully customizable with Divi's Visual Builder, and comess 100% responsive, so your products will look good on any screen size.
DiviPro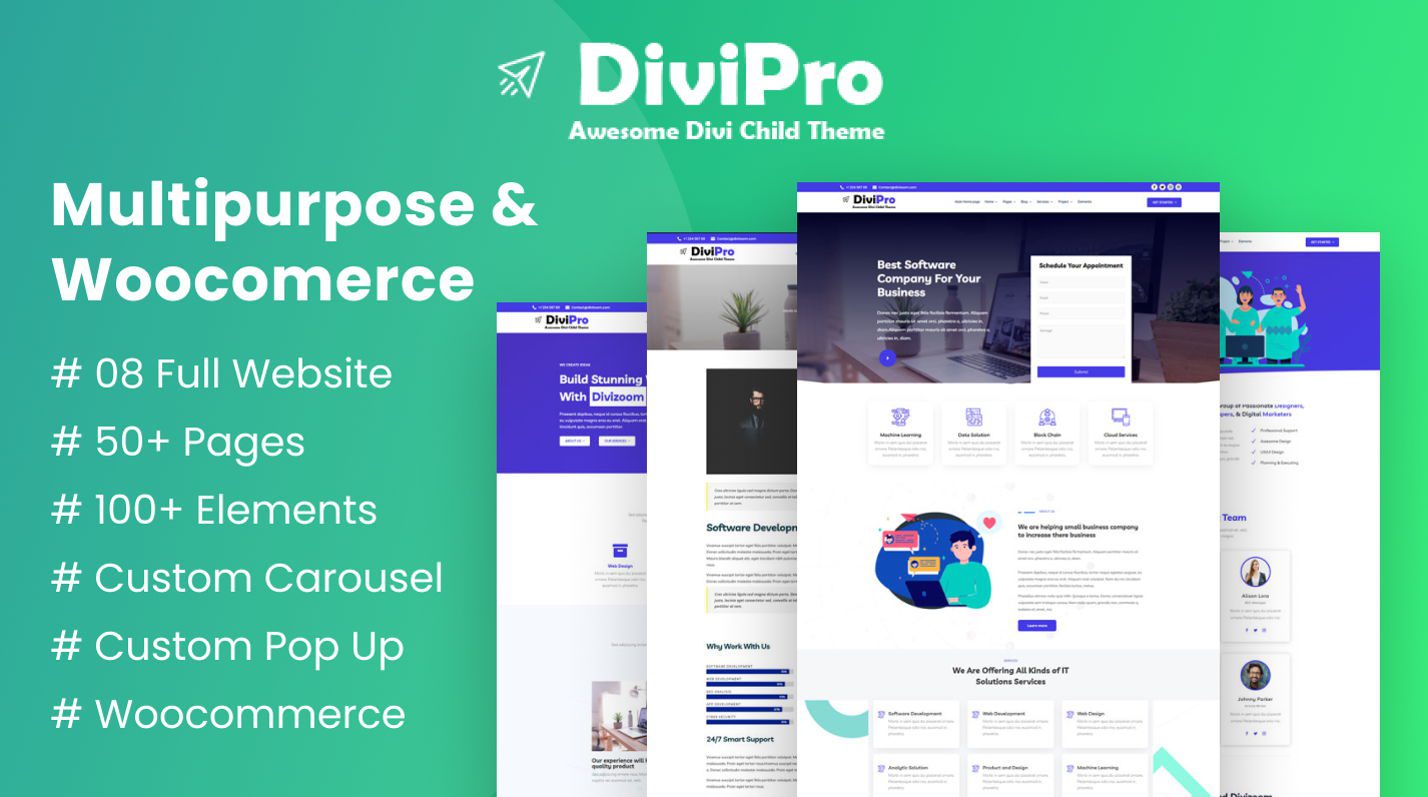 This multi-purpose WooCommerce Divi child theme is designed for any type of ecommerce business. You'll get over 50 pages, 5 headers, 7 footers, a customizable popup maker, 6 types of product carousel designs, and over 100 elements to make your site pop. On top of all that, you'll get an amazing ajax based cart, professional-looking account page, product quick view, and so much more.
Supreme Store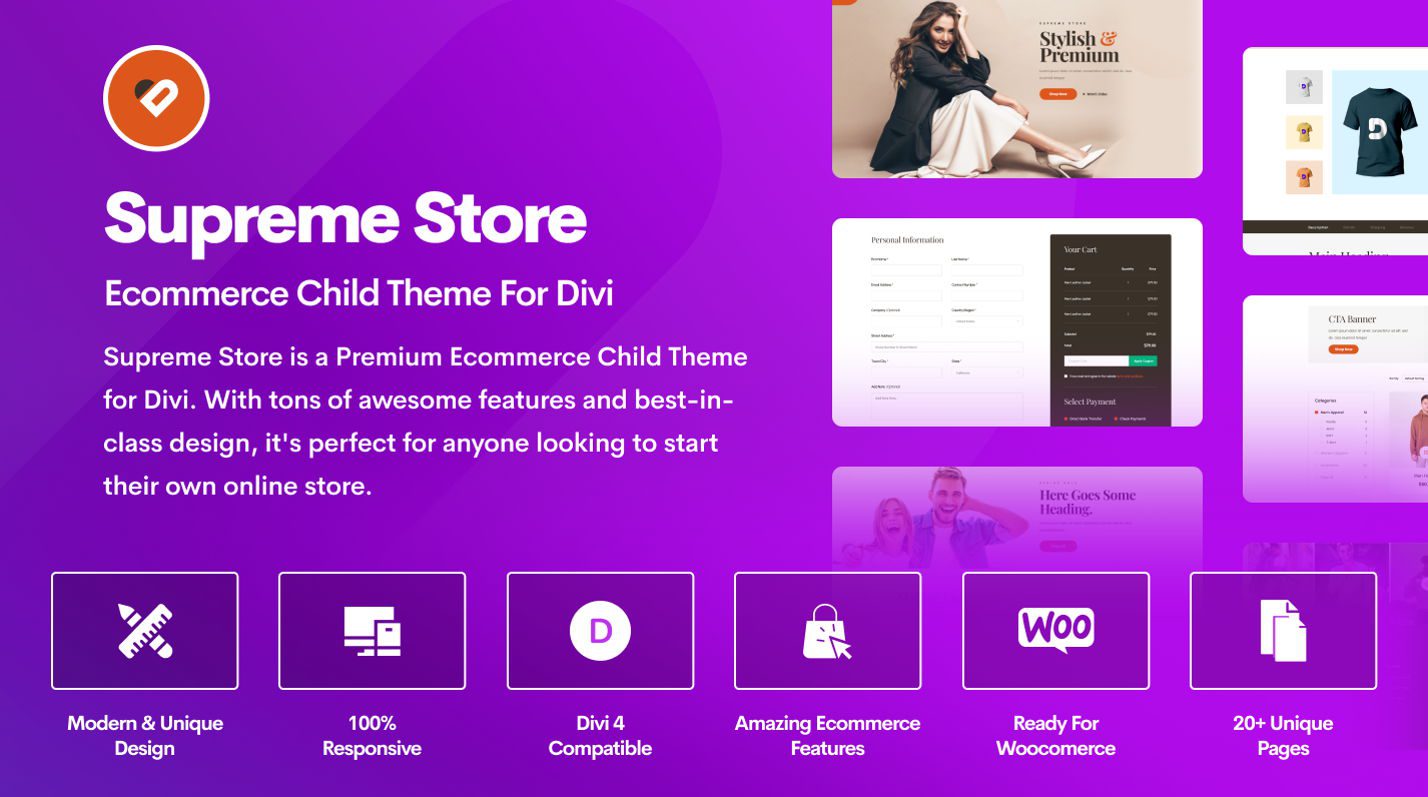 This premium eCommerce child theme for Divi is built to take your website to the next level. Suitable for businesses small and large, this cutting-edge theme comes packed full of features that are both beautiful and lightweight. Both fully responsive and highly customizable with Divi's Visual Builder. You can match your branding with very little effort to have a gorgeous website up and running in minutes. You'll get everything you need to launch a new ecommerce website with landing pages, category pages, product archives, cart, and checkout pages.
Woo Grid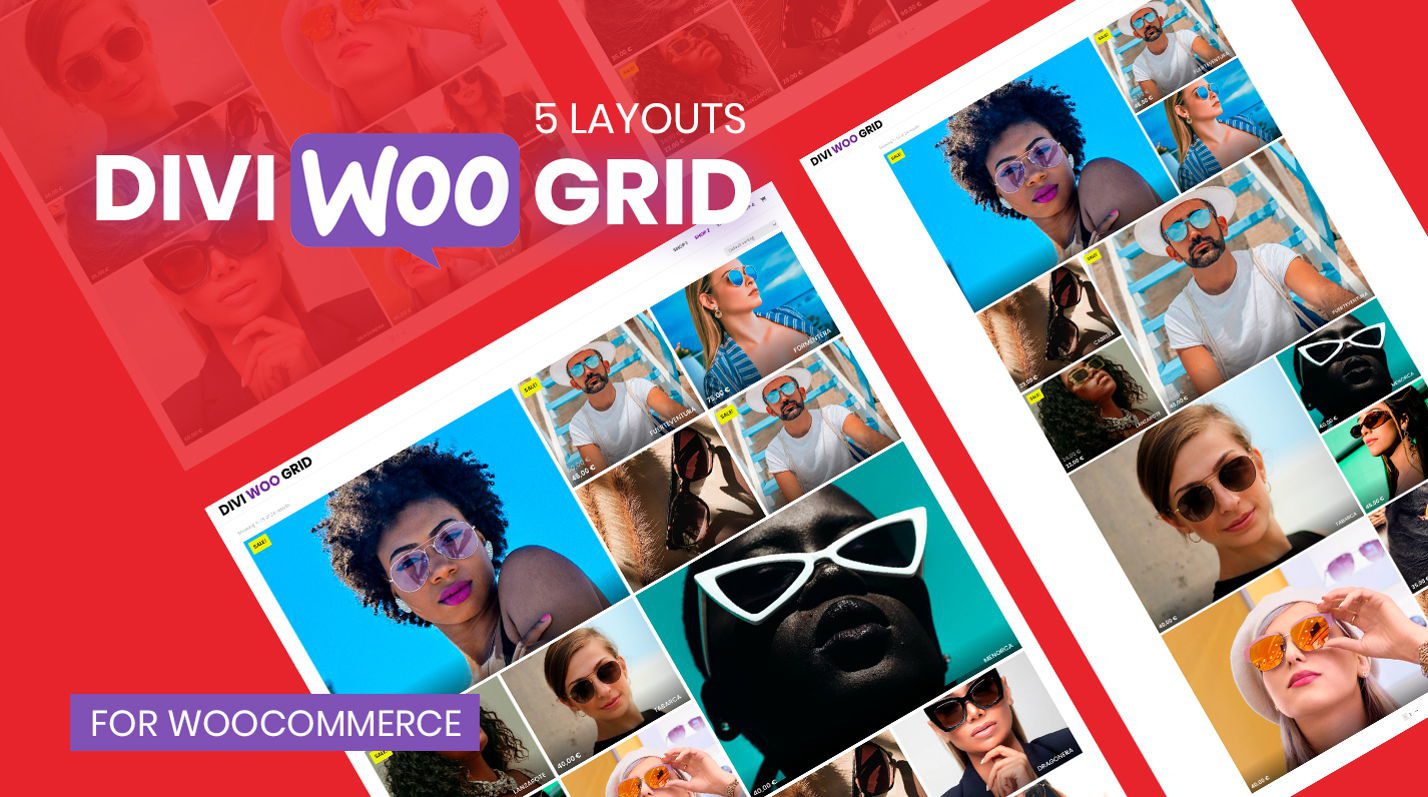 If you're looking for a unique way to display your site's products, look no further than Woo Grid for Divi. Woo Grid offers four beautiful product displays in a grid format that are completely responsive, and can be installed in seconds.
Score this Mega-Bundle for 60% Off Right Now! 486.99 $194.80 🤯
There's no time to waste! Kick your Divi Ecommerce site up a notch–or several–by adding this bundle to your cart. And don't forget, when you purchase any of our bundles during our Cyber Monday Sale you will get an additional FREE prize from the marketplace! In some cases adding an additional $100 or more to the total value of your purchase! Deals like this only come around once a year so don't miss your chance to cash in. Go to elegantthemes.com/cybermonday now!